Product type
About us
Henan Huawei Aluminum Co., Ltd. is the leader of many aluminum manufactures and suppliers in China. We strictly control the quality and focus on customers. We hope to have in-depth cooperation with you and provide you with high quality aluminum material products custom OEM services. If you want to get the newest and best prices by per kg or per ton standard weight, please contact us.
Production line
Class 100,000 clean workshop
W have a class 100,000 clear standard pharmaceutical packaging material production workshop and its supporting high-standard warehouses, laboratory and other construction facilities.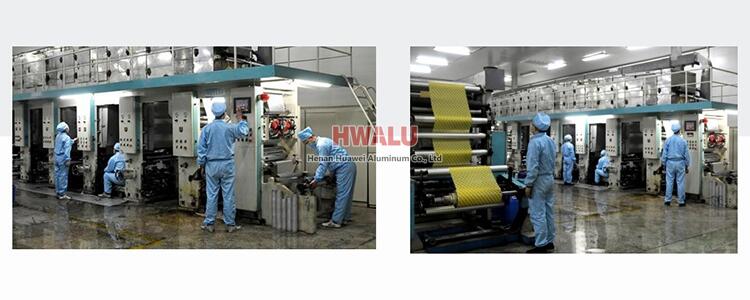 GMP standard production plant
The design of the production plant is carried out in accordance with the pharmaceuical production standards and fuly meets the GMP standards.
The workshop has a strict production system, a regular maintenance and cleaning system, and a special person is responsble for supervision.
We are equipped with various advanced testing instruments, and has established a three-level quality inspection network with positions, workshops, and quality inspections. Raw and auxiliary materials, packaging materials, semi-finished products nd finished products have quality standards and strictly implemented according to the standards. It is guaranteed that unqualified products will not leave the factory and unqualified raw materials will not be put into storage.
Packing
Package method 1 for small rolls foil
Aluminum foil roll is packed in inner plastic film with frame support and then packed into cardboard box with foam on top and bottom to ensure its safety.
Package method 2 for jumbo rolls
Aluminum foil jumbo rolls are packed into suspended plywood case with EPE foam inside to ensure safety during long time transportation.